Jon Sanders in today's Townhall:
"Mike Adams was also able to prove his humor wasn't false wit. In his responses, he showed how his column's offensive ideas were drawn, point by point, from the web site operated by another American professor, Kent State's Dr. Julio Pino. Pino's site described itself as a "jihadist news service ... provid[ing] battle dispatches, training manuals, and jihad videos to our brothers worldwide" and openly proclaimed "In the Name of OBL. 2007: The Year of Islamic Victory." Adams had been in the midst of a series of articles on Pino, but the university was defending him and academe at large wasn't interested."
The blogs were humming with 'pino must go' earlier this spring. Kent State buried the story and tacitly agreed with the murdering Americans by fundamentalists supporter and pino remains on staff at Kent State.
If you have a minute, google julio pino and find out what a threat the villian is to the American way of life.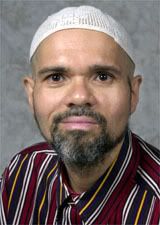 JULIO PINO, AMERICA HATER
Comment(s) »
» Leave a comment
Your E-mail address is never displayed. If you enter it, it will only be visible to the blog author
Since there already are comments to this post, your eventual comment might trigger a notification e-mail to the persons that commented before you.
The line and paragraph breaks automatically